Managing your payment methods via the Afterpay app
Contents
To access payment settings:
Tap on 'My Afterpay'
Tap on the settings icon (top right)
Tap on 'Payment methods'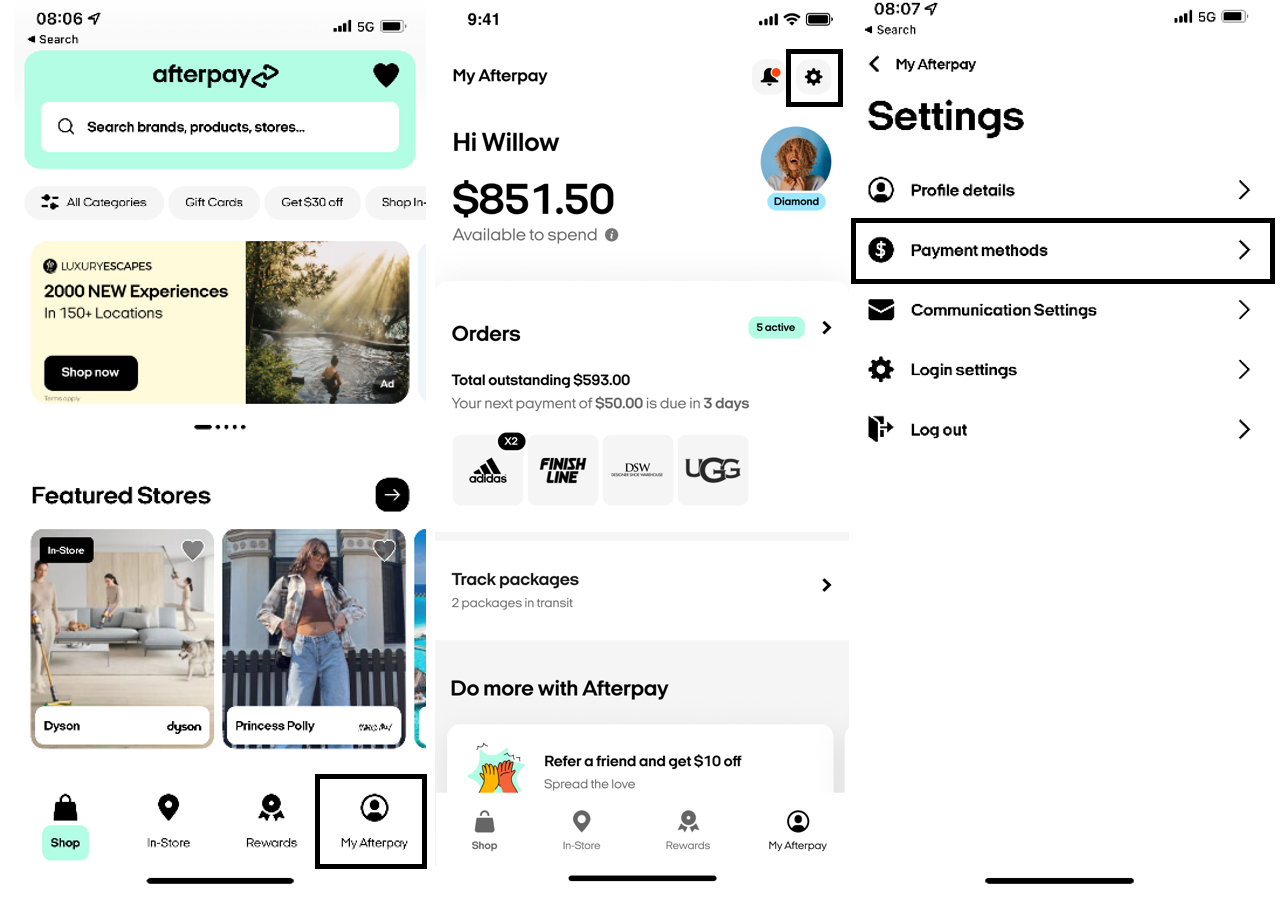 Adding a new payment method
If you want to add a new payment method tap on the 'Add payment method'
You can either manually enter in your card information or tap on 'scan card' (you will need to provide permission for the app to access your camera if you haven't already)
There is an option to set the new card as preferred method for new purchases

Removing a payment method from your account
A payment method can only be removed when there aren't any active orders associated.
If you have an order linked to the card, you will need to change your payment method on the existing order .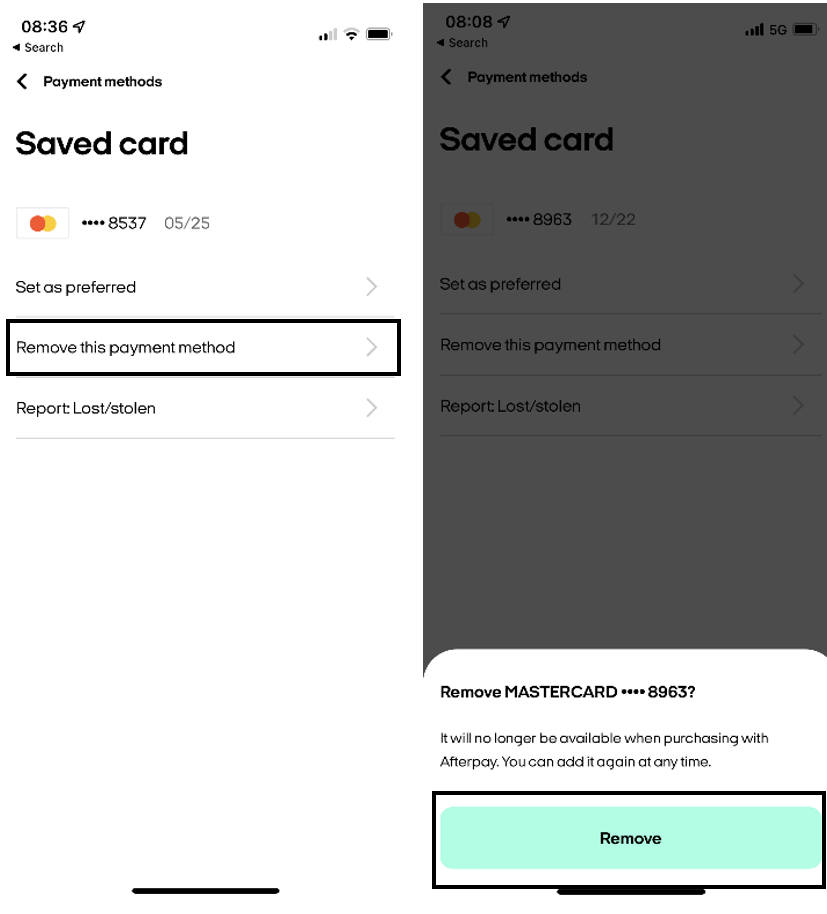 Changing your preferred payment method
When an order is approved, by default, all payment will be taken out of the same card (the card that was selected at the time of the order being placed)
You can identify which payment method is the preferred in payment settings.
To change your preferred payment method go to payment method settings
Tap on the payment method you want to set as the preferred card
Note: Any existing orders will continue to be paid from the card that you used at the time you shopped with us UNLESS you go into the order to change it.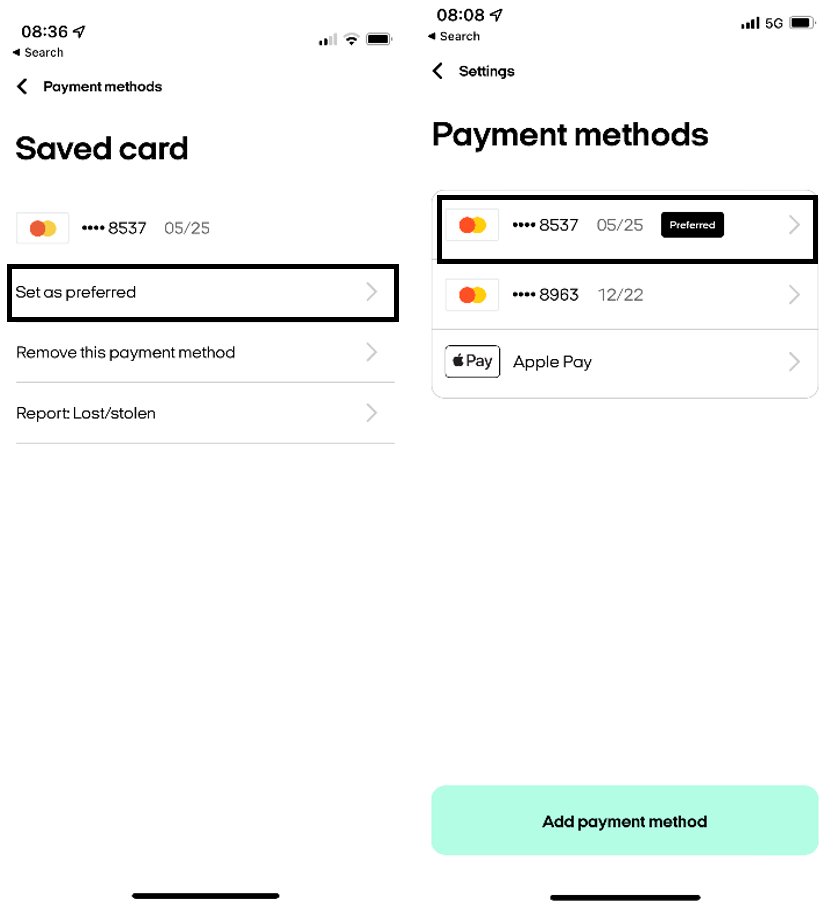 Changing the payment method on existing orders
Tap on 'My Afterpay'
Tap on 'Orders' and choose the order you want to change the payment method for
Tap on 'Payment methods'
Tap on the 3 dots in the top right
Tap on 'Change payment method'
Note: You will not have this option on the first order you place, only subsequent ones. The first order has to be paid off in FULL before you can modify cards on any subsequent orders.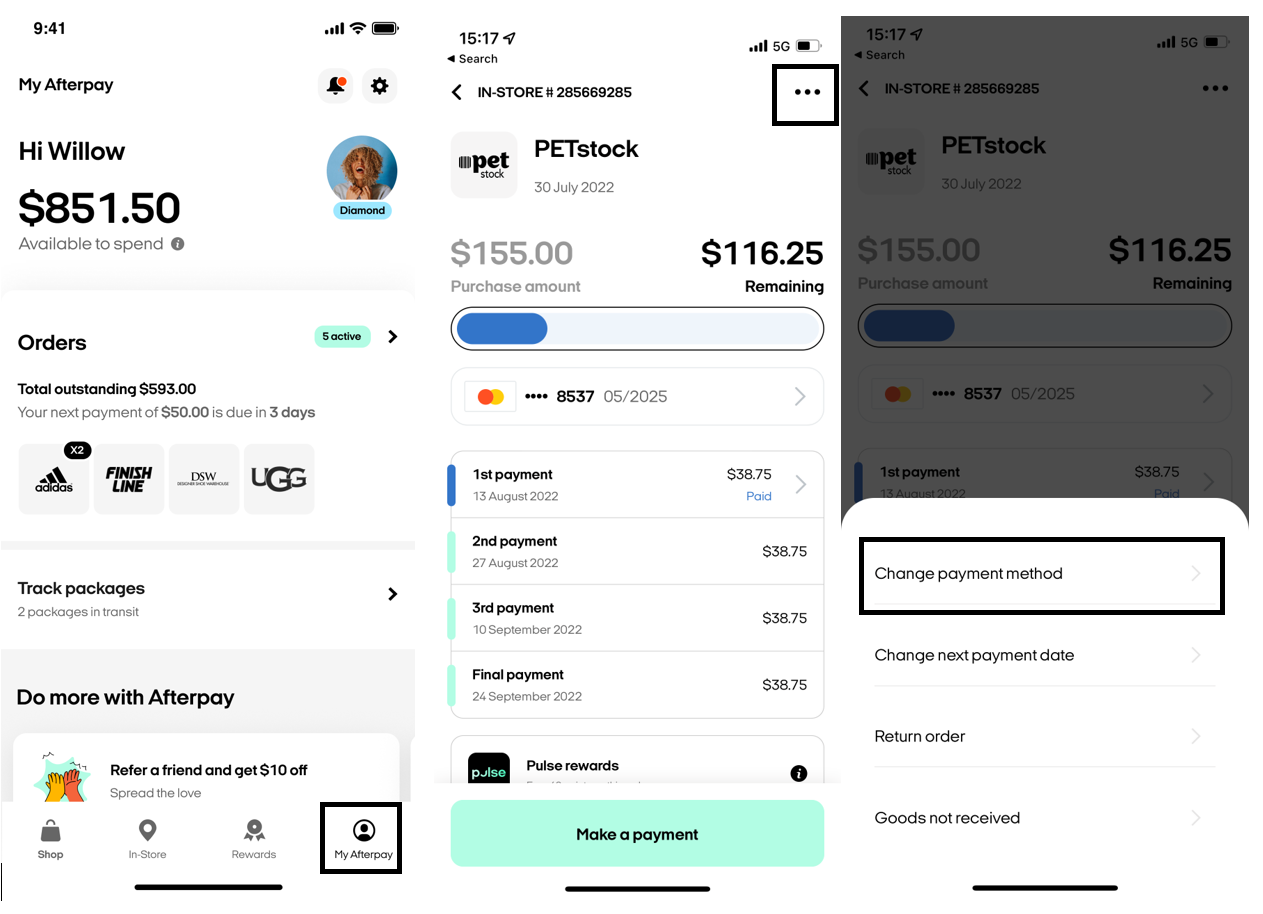 Good to know
Prefer to use our web portal? You can follow these same steps there to manage your payment methods!
When adding a new card to your account, Afterpay will verify it by issuing a temporary small authorisation hold of $3 or less. Authorisation holds are small amounts of money that are never actually charged to your account and should be voided from your payment method within a few business days.
Should you wish to use a card for a 'one off payment' only without changing the 'Preferred Card' on your order - you can do so using the 'Pay Now' option. When you choose the Pay Now option you will have to untick the box that says "Store card for future use" as you will not be able to store the card on the account.
If a payment for an order fails, we will try other cards on your account, if you do not want the old card charged at all we do recommend removing it as soon as possible.