We have received reports of Afterpay users and non-Afterpay users receiving unsolicited text messages.
Unexpected text messages or emails - like the one below - can safely be ignored.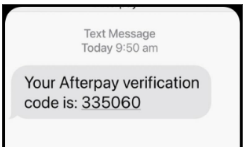 We have sophisticated tools to monitor and respond to these events and we also collaborate with our peers across the information security industry, including government agencies, to address phishing scams.
You can safely ignore unexpected text messages that appear to be from Afterpay. If you have clicked on any links contained in unexpected text messages, please follow the advice on the Australian Government's Scam Watch website at www.scamwatch.gov.au.
If you require any help, please reach out to us here.