What should I do if my goods haven't arrived or have arrived damaged?
The delivery and quality of the goods and services you buy is always the responsibility of the retailers and the service providers you buy from. That means you need to get in touch with the retailer if a delivery is taking longer than expected or it arrives with something missing or damaged. It also means that once an order is approved, only the retailer can change that order.
You can normally find a store's contact details on its website or on the order summary we sent you when you made your purchase. And you should generally allow 48 hours for the store to respond. In the meantime our system will continue to collect your instalments as per our agreement. If you have any questions, please contact us here.
What if I want to return part of my order?
The delivery, quality and return of any goods and services you buy is always the responsibility of the retailers and the service providers you buy from. And the amount and type of return you can make on a product will always be determined by the returns policy of the individual retailer you bought the item from. You should be able to find out your options by checking their returns policy on their website or contacting them directly.
Once a refund has been processed by the retailer it will automatically come through to us and once we process it, show up in your payment plan.
Now – here's where it gets a bit complicated, so pay attention!
Our system will adjust your payments from your last instalment backwards. This means your final payment might be reduced to zero, but the rest of your payments stay the same. Our systems cannot spread the new purchase price out evenly across your four payments or across the remaining payments.
Now – on the App, your refunded order will show up as "PAID" or "COMPLETED". We know this can be confusing and we are working to fix this right now. In the meantime you can click the "PAID" or "COMPLETED" button to see that the payment has been refunded.
Like this.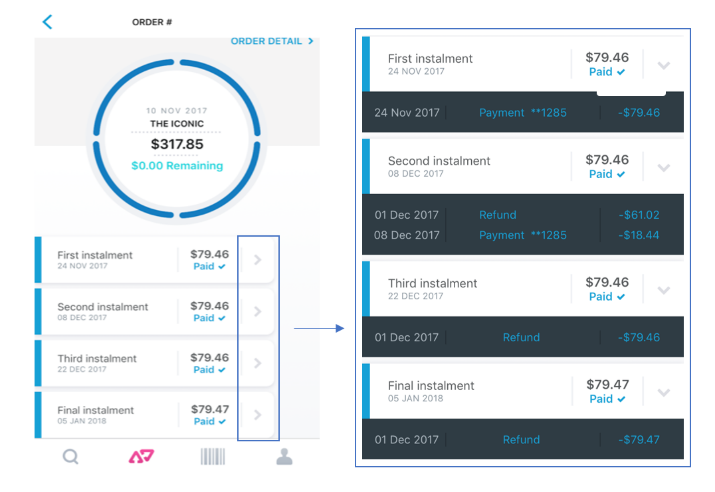 Financial refunds can take up to 7 business days depending on your financial institution. If you have any questions you should follow up with them asap.
We know that keeping your first couple of payments the same, even though you've received a partial refund, may not be what you wanted. But it's the easiest way to run a system that helps you plan, book, buy and pay without ever losing control of your money.
Having said this, we are always reviewing and trying to improve Afterpay so please let us know your thoughts and keep the conversation going here.
What happens if I get a refund sent to a cancelled card or closed account?
This can be tricky.
When we process a refund to an account that has been closed or cancelled, funds will generally be held in an "unallocated funds" or a "general ledger" account by the card issuer (bank).
You should contact your card issuer asap. They might use different terminology for this type of account but if you use the terms "unallocated funds" or "general ledger", this should help them understand what happened. You might need to ask for a specialist team within the bank to help get to the bottom of this one. Normally this is a manual process (rather than an automatic one), so you will need to speak with the people that manage these processes inside each bank or card issuer.
You should make sure you have the specific date, time and amount of the refund to help match up the money to your account. If you need help finding this information get in touch with us here and ask for your refund confirmation.
Why am I still being charged when I have returned the goods?
First things first – once you have returned your goods we need the retailer to accept the refund and let us know. They won't refund Afterpay unless they are satisfied that the goods have been returned in a manner consistent with their returns and refunds policy. So we have to wait for this to happen before we can settle your account – otherwise Afterpay would be left carrying the cost of any disputed returns. And then we wouldn't be able to provide you with this free service.
We work with all our amazing retailers and service providers to try and make sure this process happens as quickly as possible – because that's good for you. But we can't control this and so we have to wait for our retailers to go through their proper process.
That means our agreement with you – your short instalment plan – has to continue until we get final confirmation of a return or refund from your retailer and our systems process your refund in the amount agreed between you and the retailer.
And if you need help resolving a returns dispute with a retailer because you're unable to resolve the dispute directly with them, please get in touch with us here and let us know what's happening.