Afterpay may send marketing materials from time to time to those we interact with based on their communication preferences or when otherwise permitted to do so. We may send marketing materials about updates, announcements and targeted offers from Afterpay or our Retailers. We also can provide a more personalised experience by understanding your behaviours and interests, such as your preferred retailers, purchase, and spending habits.

Here are some ways you may manage some of your marketing choices. Alternatively you can reach out to our team for support about any marketing choices you would like to make.

Please allow us sufficient time to process your marketing choices. We may still need to reach out to you for service delivery purposes and reasons under our Agreement with you, such as customer service issues, returns or product-related inquiries, outstanding payments, surveys or recalls, or any questions regarding a specific order.

Email marketing
If you signed up to receive marketing email communications from us, you can opt-in or -out any time by following the steps below.

On any marketing email
In any marketing email from us, you will see an "Unsubscribe" button at the bottom. You can click that button any time and follow the steps to unsubscribe from marketing emails.

On our website
Click on 'My Account' > "Preferences" > "Unsubscribe" (click) > "Update"

On our App
You can choose how you'd like to hear from us in our App.
Simply go to "Profile" > "Notifications" and toggle on or off Marketing emails.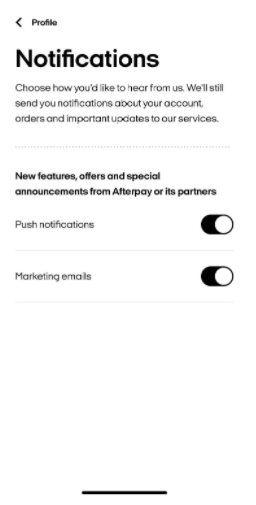 Email Tracking Pixels
Some of the emails we send may contain an 'email tracking pixel' (a 1px-by-1px transparent .gif or .png) and/or tracked links that allows us to identify when you have opened the email and to verify which links contained in the email you have clicked. We use this information to personalise the content of future emails to you. You can block these pixels by turning off automatic image loading on your entire email account and permanently remove pixels already sent by deleting the email and unsubscribing to our email marketing subscriptions by following the steps outlined in Marketing Emails.

Push notifications
You can choose if you'd like to receive push notifications so we can send you marketing materials to your mobile device. Simply go to "Profile" > "Notifications" and toggle on or off

Cookies

Cookies are small data files stored on your browser or device. They may be sent by the operator of the website you are visiting, in this case Afterpay ("first-party cookies"), or by third parties, in this case our digital partners ("third-party cookies"). Other similar technologies may be used for similar purposes, such as tracking pixels or browser local storage. For example, we partner with third-party analytics providers, like Google, which set cookies and similar tracking technologies when you visit our site. This helps us understand how you are using our services so that we can improve your experience.

Please refer to our Privacy Policy available on our website for more information on how we use cookies to collect and process personal data.